NOW AVAILABLE! X-Day: Gaming Olympic, Illustrating the Greatest Invasion
Substantial map work and war gaming was done to support X-Day: Japan. That work has been compiled into a full-color book which lays out the epic battle in maps and photographs. LEARN MORE HERE!
80 full-size color pages. E-book edition recommended for larger color devices.
Paperback – Amazon.com, .co.uk, .de, .it
e-Book – Amazon.com, .co.uk, .ca, .au, .de, .jp.

---
X-Day: Japan, Front-Line Reporting at the Greatest Invasion and the Dawn of Nuclear Warfare
based on Walter F. Tuttle's Kyushu Diary;
Shawn D. Mahaney, editor
"People have a funny way of thinking about history as a string of inevitable outcomes…"
Now available! X-Day: Japan is now available for purchase.
Get the paperback at Amazon.com, .co.uk, .it, .de.
Get the e-book at Amazon.com, .ca, .mx, .co.uk, .it, .de, .co.jp.

---
"
X-Day: Japan is the single best researched alternate history of the invasion of Japan you are going to find.
" –
Trent Telenko, chicagoboyz.net
---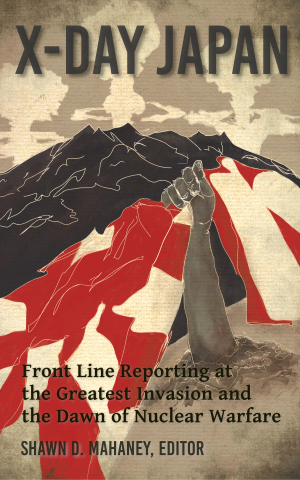 In November of 1945 over a million fighting men clashed in the greatest amphibious invasion of human history. 400,000 American soldiers and Marines forced their way ashore. They were outnumbered by the Japanese but brought unprecedented firepower.
This Pacific "D-day" was called X-Day. Walter F. Tuttle was there as a front line reporter. This is his account. It is not a parade of military hardware and tactics, nor is it a political thriller. It is the story of fighting men, their field commanders, and the nation which supported them.
Nuclear weapons stood ready to join the battle. No one on the ground knew anything about atom bombs, until the world was turned upside down around them.
Watch here for news on the book release, get the preview sample, and check back often for special offers or discount codes.
---
SIGN UP FOR NEWS
:
Sign up here for updates on X-Day: Japan and other Stone Lake Press offerings. Updates will be limited to new releases and occasional special offers. We value your time!
Information submitted will not be shared with ANY other party. Messages will only be sent to subscribers which are directly related to X-Day: Japan and other Stone Lake titles.
---
Share/Connect: